Are you concerned about the security of your house? Your regular security camera might not save you when there is a power cut.
Power-cut is a serious problem, especially in rural areas. Solar-powered security cameras can be a great way to overcome sudden power cuts.
Most solar-powered security cameras come with a wireless system, an inbuilt rechargeable battery & PV modules to help you ace electricity bills.
The functionality of both the regular security camera and the solar-powered security camera is almost the same except the source of the power.
In this article, I am here with some of the best solar powered security cameras along with their pros and cons.
Investing your 3 to 5 minutes reading this post will help you decide which one to go for.
Things to Consider in a Solar Powered Security Camera
Before buying anything, it is always good to have some knowledge about the product. Doing so will not only help you to choose better but also saves you from regretting later.
Proper Placement
Your security camera won't work alone, it needs solar power. So you need to place the camera and the solar panel in such a way that it gets maximum exposure to the sun while giving you maximum protection.
Getting six-hour of full sunlight every day will do the work if you place the panel right-facing directly to the sun.
Related: The Definitive Guide to Angles & Directions for Solar Panels
Weather-proof Rating
When getting a security camera for outdoor security, you need to keep in mind the weatherproof rating.
Can the security camera be able to face all types of weather or not?
Apart from water splash, it should be able to keep working in the hail storm and chilling snow.
I recommend you to check out the weather-proof rating of all the security cameras you consider.
Related: How various weather conditions affect solar panels?
Best Solar Powered Security Cameras
Here is the complete list of 5 best solar powered security cameras in the market based on user reviews.
These products can be easily available both online & in-store. To make it easy for you to buy them online, I have given an Amazon affiliate link at the end of each product.
Let's dive right in!
1. Maxsa Innovations Secure Motion-Activated Solar Security Camera
To give you full protection at night, this camera comes with motion-activated flood lights that combined with wireless security cameras, will help you capture every action on your property.
The best part is that you can customize the duration of the light depending on how long it will stay after it is activated. Even the motion sensor can be adjusted according to your need.
But many find the motion sensor too sensitive even after adjusting.
This camera comes with a pre-equipped 16 GB memory card that can be extended up to 64 GB.
Another downside of this camera is that the date and time stamping is not properly synced with the video.
Pros
Relatively cheap
All settings can be customized
Sufficient pre-equipped solar storage
Cons
Motion detectors are over-sensitive even after adjusting.
Date and time stamps are not synced properly
2. YESKAMO Solar Security Camera Wireless
This solar-powered security camera by YESKAMO will save you from a lot of false alarms. With the help of the facial recognition software that comes with this camera, you can cut down the rate of false alarms you get.
it allows you to get alarms for letting you know the strangers in your property with advanced customization alerts.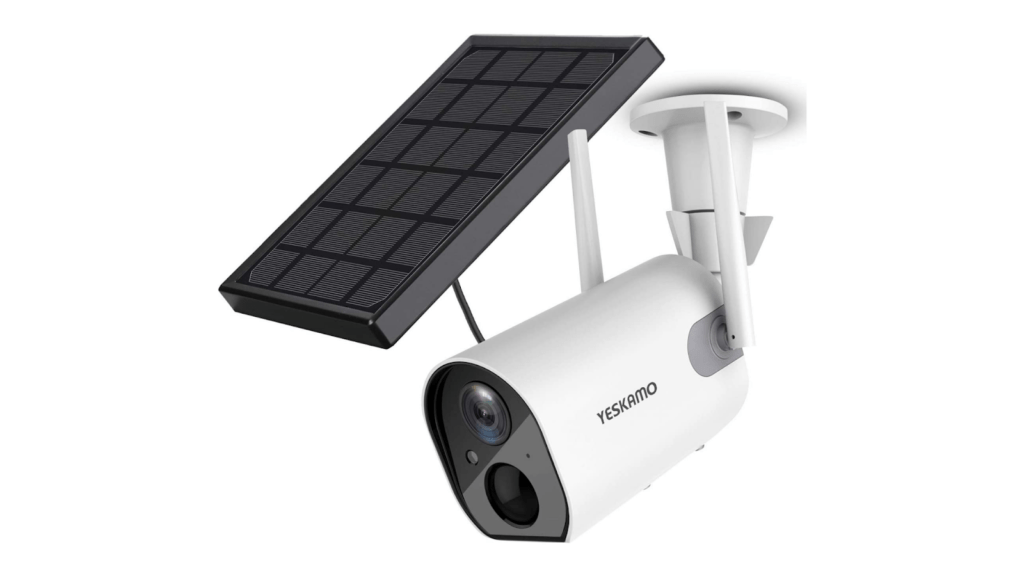 What I like about this solar-powered security camera is that its battery can be charged for one full week with just a day of full sun power.
It includes two-way audio and clear visions in starlight night. Moreover, you can control the camera function with Google assistant.
Apart from all the goodness of this camera, the downside is that the video it records is of 10-seconds each clip.
So if you want to get to know longer events you will need to get all the pieces together to make a full story.
The good thing is that the video quality is above average but the audio from the camera speaker is not up to the mark.
Sometimes a lag can be noticed between the time the camera is opened and the response of the camera. But on the bright side, their after-sale service is marvelous, you will get a quick response for any problem you get with advanced features.
Pros of Lynx security camera:
Comes with facial recognition software
One week solar charge in one day full sun power
Compatible with Google assistant
Great after-sale service
Free cloud storage
Cons of Lynx security camera:
Audio not so clear
Recording time is very short
Quite expensive
3. Reolink Argus Solar Powered WiFi Security Camera System
If you are looking for an affordable outdoor security camera with all amazing security features then Reolink Argus will provide you the best value.
This security camera is very easy to use and to put into action just plug and play. The best feature about Reolink Argus is that all the features are customizable according to your need and want.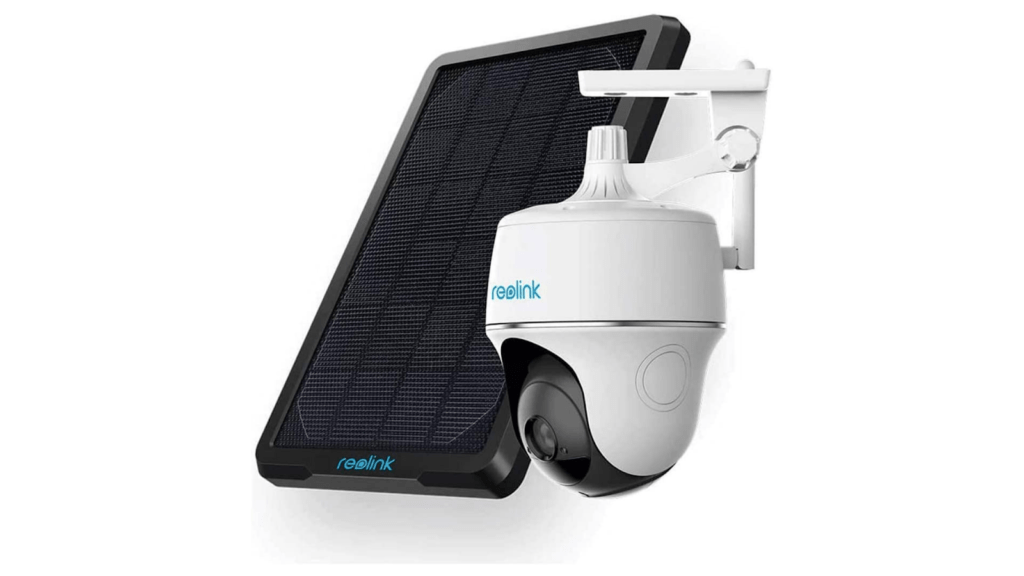 You can easily customize the image resolution captured through the camera sensitivity of the motion detector.
And. with the help of the app, you can organize the alerts you want to receive and you can also see the live video using the app. Its solar panel support adds a star to the features.
Reolink Argus security camera offers two storage options. You can either store the data in a micro SD card or you can go for the cloud storage facility. They offer 7 days of free cloud storage and if you want to continue you can go for a premium plan.
Although we can see there are lots of amazing features of this solar-powered security camera, there are some downsides also like the video is not very clear, lag can be seen on a motion detector, and a few false alarms.
Apart from that, this camera is budget-friendly and provides you the premium features.
Pros of Reolink Argus
Budget-friendly
Easy to install and use
Fully customizable
Average image quality
Cloud storage facility
Cons of Reolink Argus
Choppy video quality
Lag in motion detector
Need to buy storage separately
4. Ring Spotlight Cam Battery HD Security Camera
This security camera is unique in this list because it has two-way talking features that let you interact with people on the door by looking at the camera.
You can respond to them from your smartphone or desktop.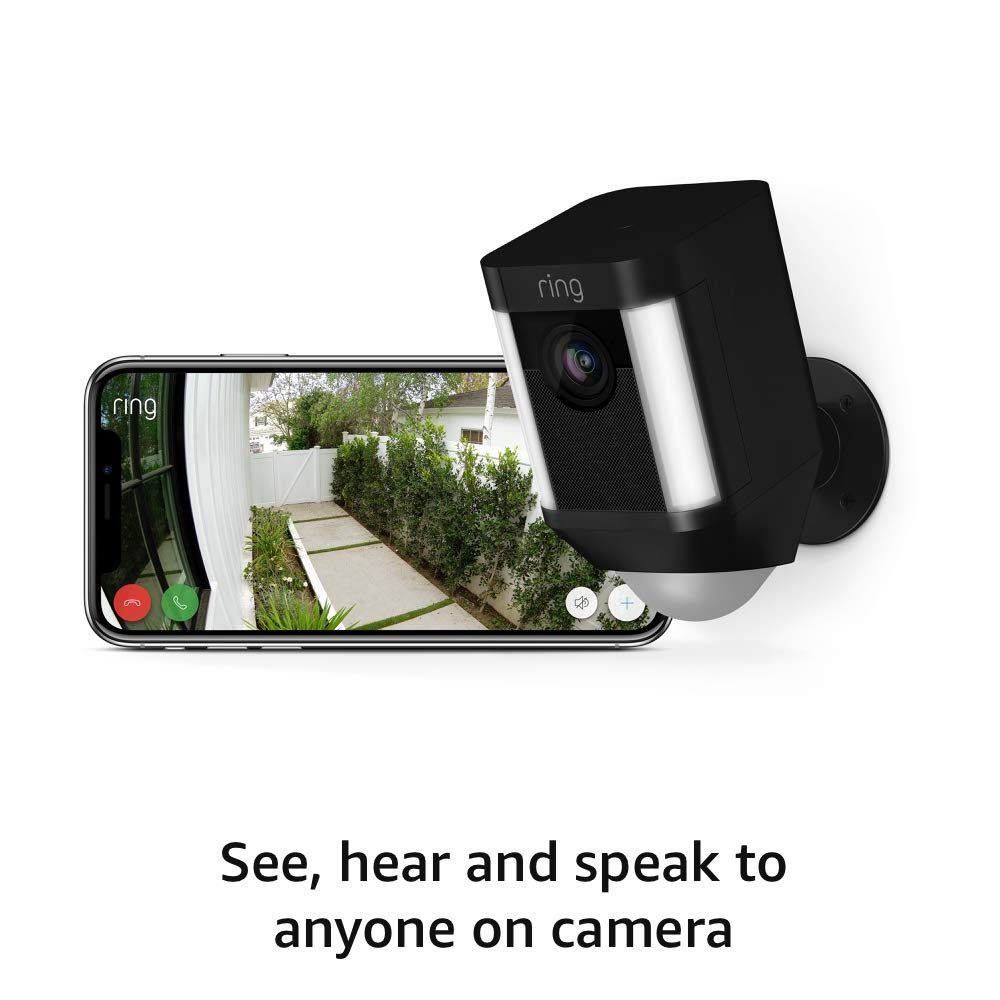 The cool thing about this outdoor solar-powered security camera is it can be connected to the larger Ring Alarm home security system.
Not every home security system provides this solar power-connected system, so you can use it to your advantage to cover the security of more parts of your house.
The downside of this security camera is the live video recording is of standard quality & not very high. Also, to record and save the video you have to purchase the Ring protect plan for around $3 for a month.
But on the bright side, they offer a theft protection guarantee on which if your camera gets snatched then they are going to replace it with a new one for free, you will get only the camera for free.
Pros
Replacement of camera on theft
Alexa voice support
Compatibility with the house alarm system
Amazing motion detection accuracy
Clear video quality
Cons
Price is very expensive
For video recording, it needs a subscription
5. Arlo Essential Spotlight Camera with Essential Solar Panel Charger
Arlo is known for its best products. People tend to buy other products because of the price but the features it provides in that price range are justified.
It can be powered using multiple power sources like your computer, rechargeable battery, or solar power using solar panels.
This will never let you down by running out of battery. At optimal settings, it provides 6 months of battery life on one full charge.
The best thing about this camera is this can record the videos in clear 1080p quality, day or night.
It has an integrated spotlight that will help you to record colored videos at night.
You can quickly respond to all notifications either manually or you can set an automatic alert on your phone.
It also has two-way audio facilities with Wi-Fi connectivity.
Pros of Arlo Essential Spotlight Camera
1080p video recording
Easy installation
2-way audio
Colorful night videos
Multiple power sources
Built-in spotlight and siren
Cons of Arlo Essential Spotlight Camera
Customer support is not good
Lots of false motion alert
Terrible connectivity and no cloud storage facility
FAQs
How much money will I save by using a solar-powered security camera?
If you go for a solar-powered security camera you will be saving the cost of heavy installation, cost of maintenance, and cost of constant replacement.
In addition to that security cameras need to be working all the time hence, consuming heavy electricity, so the bill will be high. So, by choosing a solar-powered security camera you can save a lot of money.
What if the battery in the camera dies or the camera Wi-Fi goes out?
We have recommended those solar powered security cameras that will run 24/7 and include long-life rechargeable battery backup.
Even if the sun goes down the camera will keep working anywhere from 12 hrs to 3 days before the battery runs out.
But, even in the worst-case scenario, it won't happen. So choose the best camera after reading their pros and cons.
It is a matter of the safety of your house so you shouldn't compromise it for cost.
On Bottom Line: Reolink's Argus Comes Out on Top
Keeping in mind your safety and budget I think Reolink's Argus will be the best choice. All because it is easy to set up, it's very cheap and affordable and can be used easily with the app.
You can order the camera along with the solar panel for just around $160 and install it by yourself by following the instructions.
I hope you like the overall review. You can appreciate our efforts by sharing this post with your friends & family.