The solar power bank is a battery power storage unit that gets energy from sunlight. That energy is then stored in the batteries attached to it.
A solar power bank is essentially a power bank that has an inbuilt solar panel.
Solar power banks have numerous benefits over simple power banks that use electricity.
Benefits of Using Solar Power Bank
Let's first have a look at the primary benefits of using solar power banks:
1.Traveling Ease
Electricity is not available everywhere but the sun is!
When you are traveling, you don't need to look for the socket for mobile or laptop charging. You can just use this power bank and save time to search for an electricity supply.
When you charge the phone through a solar power bank, it also saves energy.
It will be especially helpful if you have several devices to charge.
2.Eco-friendly
When you are traveling a long distance, charging the phone is quite difficult. Using a power bank for outings is good so that phones can be recharged.
A solar power bank can hold a high level of power than a regular power bank and therefore can be used to charge phones for several days.
All you have to remember is to take the power bank out in the daylight and it will regain its power.
How to compare which one is better?
Since these power banks can be a great option for long camping or trekking trips, You can compare Solar Power Banks based on the following factors:
1.Capacity
Checking for the capacity of power banks before buying is quite important.
Since a 30000 mAh solar power bank will last much longer than a 20000 mAh power bank, that is you can charge more devices before it runs out of battery.
2.Output
A solar power bank should charge devices quickly. For this, it should have maximum output.
This can be ensured by checking the maximum output rating of a given power bank.
For example, An 18-watt power bank will be faster in charging than a 10-watt one.
3.Number of Ports
Before selecting a power bank, you should also check the number and type of ports offered by your solar power bank to ensure that you can connect all of your devices. Doing this, you will not get any issues while charging.
Generally, power banks use full-size USB Type-A ports for output, and for input, they either use micro USB or USB Type C.
Review of 5 Best Solar Power Banks
In this post, I am here with the 5 best solar power banks based on user rankings.
You can also check for the prices of these power banks by clicking on the link given at the end of each product:
1.PANERGY Portable Solar Power Bank
The portable solar power bank is best for camping outdoor and long-distance travels. With this, you can charge your phone 5 to 6 times without even recharging your power bank.
The additional feature you'll get is Ultra Bright 2 Flashlights and 60 LEDs Panel Light which make it different from ordinary power banks.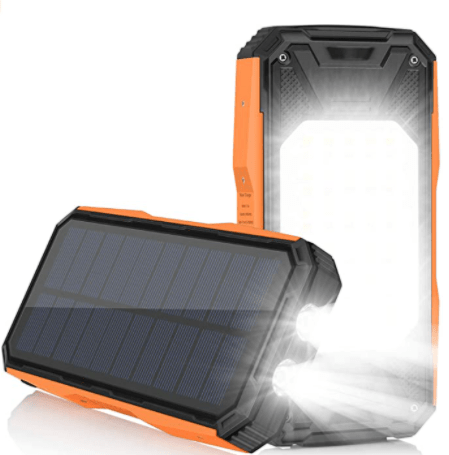 Capacity:
This power bank has a 26800mAh huge capacity for charging. Also, powered by Li-polymer batteries, more durable and last a long time.
Output:
USB1: 5V/2A(max)
USB2: 5V/3A(max), 9V/2A(max), 12V/1.5A(max)
Type-C: 5V/3A(max), 9V/2A(max), 12V/1.5A(max)
Ports:
USB C and two USB A charging ports.
Other Features:
Solar charging is not a primary charging source. It can also be charged via a wall charger.
It can charge 3 devices simultaneously with large charging power.
Rainproof, dust-proof and shock-proof
Extra LED highlight flashlight
Compatible with iPhone, Samsung, Android phones, Windows phones, GoPro camera, GPS, tablets, and most mobile devices.
2.FEELLE Solar Power Bank
The Feelle solar power bank comes in a foldable design and portable size so you can bring it anywhere easily.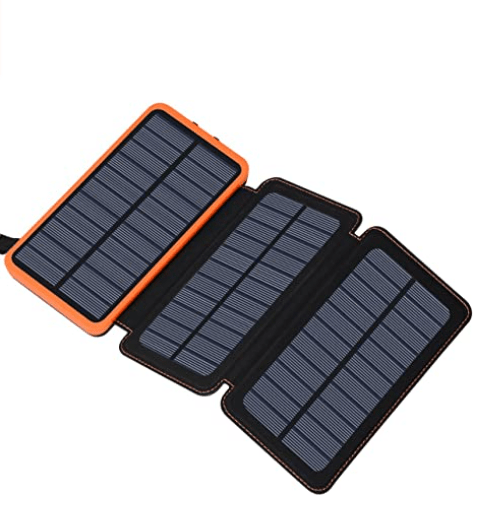 Capacity:
This power bank has a 24000mAh capacity for charging. This is also powered by Li-polymer batteries.
Output:
Ports:
USB and Micro USB charging ports.
Other Features:
The solar charger has a bright flashlight with 3 modes.
It can charge 2 devices simultaneously.
Waterproof and Shockproof
Compatible with Galaxy S20/S10/S9 Plus/S9/S8 Plus/S8, iPhone SE2/11 Pro/11/XS/XS Max/XR/X/8, IPad Air 2, iPad mini 3/4, iPad Pro 9.7/12.9, HUAWEI P40/Pro/30/30 Pro/20/20 Pro
The main con where it lacks is its slow charging. It's charging by Solar panel is slow, it needs about 35-40 hours to be fully charged.
3.OUTXE Solar Powered Phone Charger
Outxe solar-powered charger is built for serious outdoor adventures like camping, road trips, hiking, mountaineering, and exploring, survival, prepping.
It is drop-proof and dirt-proof. Also, its ridges provide a better grip that makes it a better option for adventurous trips.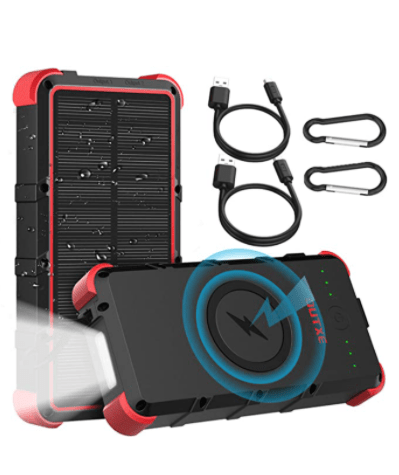 Capacity:
This power bank has a 25000mAh capacity for charging. It has a lithium-polymer battery that is claimed to be recharged more than 500 times.
Output:
Output 1: DC 5V/3A, 9V/2A, 12V/1.5A (max),
Output 2: DC 5V/2.4A (max)
When using both outputs, the power bank will limit the maximum power within 24W to control the temperature.
Wireless Charging Output:5W(max)
Ports:
1 USB QC3.0 output
1 USB output 2.4A
Also, 1 wireless charging pad.
Other Features:
Supports smart charging, that is, this technology optimizes output to match what's plugged in and prevents overcharging.
It can charge 3 devices simultaneously.
It has 1 wireless charging pad for wireless charging enabled devices.
4.BLAVOR Solar Power Bank
This foldable power bank comes with four premium foldable panels with a polymer lithium battery that allows charging your devices.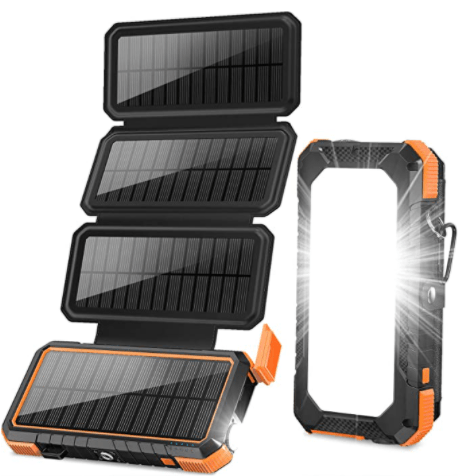 Capacity:
This power bank has a capacity of 20000mAh for charging. It has a lithium-polymer battery that allows you to charge your devices multiple times.
Output:
=1.5A MAX 18W
Wireless Output: 10W/7.5W/5W
Ports:
1 USB QC3.0 output
1 Wireless output
Other Features:
It contains 32 bright LEDs with three brightness levels, also you can adjust the brightness according to your needs.
It is claimed to be Water Proof.
It consists of a complementary built-in compass kit.
5.FOXELLI Triple USB Solar Charger
Foxelli solar power bank comes with a smart charging technology that recognizes the input needed for a connected device and distributes current output accordingly. You can easily fold these solar panels and carry them for travel.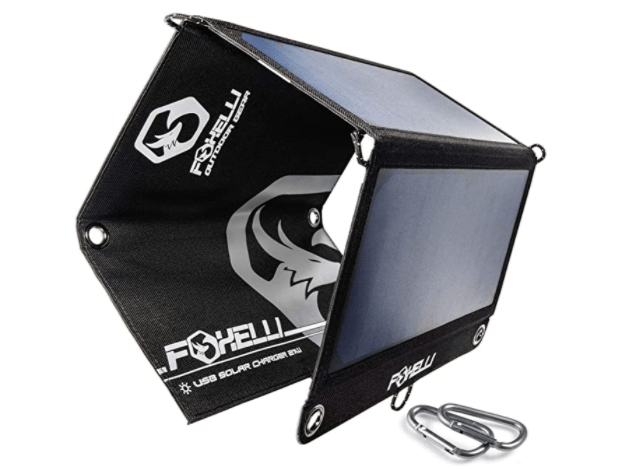 Capacity:
This solar charger has a capacity of 20000mAh for charging and a 24% conversion rate, so this has enough power to charge 3 devices at the same time.
Output:
Ports:
Other Features:
It is weatherproof and durable.
Charges up to three devices simultaneously
It is compatible with any USB powered device with a 5V DC input voltage.
Compatible with iPhone X, 8, 7, 6s, iPad, Samsung Galaxy S9, 8, S7, S6, S5, Edge, Note, mini, Nexus, LG, HTC, GoPro, Kindle, and other electronic devices, including power banks of various capacity.
Final Words
I have listed the top five solar power banks based on user reviews. Each of them has different additional features.
If you want to purchase a power bank for camping or trekking, then it is good to go with Outxe solar-powered charger.
Never be caught with a dead phone battery ever again!
Stay powered up, wherever you are, with this handy solar power charger.
It's also beneficial to keep it on hand in case of power outages.
Now, it's up to you which one fits perfectly for your needs.
Do your research and buy with confidence!
Which solar power bank do you like most? You can share your views in the comment section below.
Follow us on Instagram @solar.funda to get the latest updates on solar news and technologies.