Unlike regular lanterns, Solar powered lanterns use solar energy to operate. Using these small solar-powered electronic devices can be a great start if you are thinking of going renewable.
Going renewable not only helps you ace high electricity bills but also is good for our environment.
In this post, I am going to review the 7 best solar powered lanterns for 2023. I'll list complete features of each of the 7 lanterns that will definitely help you in making a valuable buying decision.
At the end of this post, you will be able to find a durable, long-lasting & high-quality solar-powered lantern. The products that I have used are all available on either Amazon or Walmart.
Disclaimer: This post contains affiliate links. It means if you make a purchase using any of our links, then we'll get a small commission without any cost to you!
Before we begin, let me tell you a bit about the benefits & problems associated with the use of these lanterns.
Benefits & Problems Associated with a Solar-Powered Lantern
Like any other electronic device, solar powered lanterns aren't perfect. They do also have some pros & cons.
But, before we discuss them – let's understand what a solar-powered lantern is & how it works?
"Solar powered lanterns are somewhat similar to regular lanterns except for the fact that they use solar power to operate."
These lanterns usually come with a solar panel, LED lamp, battery, voltage regulator & an inverter system. The solar panel is usually non-detachable & is attached to the top of the body of the lantern.
The panel attached on the top converts the sunlight into electricity (during the day) & charges the battery. At night this battery is then used to power the lantern.
Related: Working of Solar Panels
This is the complete working of a solar-powered lantern.
Let's also have a look at the benefits & problems associated with their use.
Benefits
1. Renewable Energy Source: Solar energy is a renewable energy source – which means you'll keep getting electricity as long as the sun exists. It means you don't have to worry about the future of energy.
2. Reduces Electricity Bills: Using solar-powered lanterns can be a great way to deal with rising electricity bills – as solar energy will always be free!
3. Environment & Health Friendly Energy Source: Solar powered lanterns use solar energy which is an environment-friendly source of energy.
Not only this but solar power does also help in reducing the emission of harmful gases that are injurious to human health.
There are some main benefits of adopting solar-powered devices. However, the list might go on & on if we look around carefully.
Related: Impact of Solar panels on Environment
Problems Associated
Unlike so many great benefits, solar-powered lanterns do also have some drawbacks. Here are a few of them:
1. Impact of Weather Conditions: Weather conditions like extreme heat, rain, clouds & fog can reduce the overall energy production. Your lanterns may not last long if they won't get enough sunlight.
2. Long Charging Time: While compared to regular lanterns, the charging time of solar-powered lanterns is quite high. You might need 5-6 hrs of full sunlight for them to get fully charged.
Things to Keep in Mind Before Purchasing a Solar-powered Lantern?
The below list comprises some of the most important things that you should look for (in a solar-powered lantern) before making a purchase.
Charging & Backup time,
The durability of the material,
Build Design &
Level of Brightness.
You can also check some additional features like auto turn ON/OFF sensors, weather resistivity, etc.
I think we have discussed a lot about our ideal solar-powered lantern. Let's have a look at what we have for you!
Best Solar Powered Lanterns
Some of the best solar powered lanterns that we have analyzed based on hours of testing & ratings from thousands of buyers are listed below.
1. Tomcare Solar Lantern
If you are looking for a solar-powered lantern for both lightning as well as decoration purposes, then you should definitely go for this one.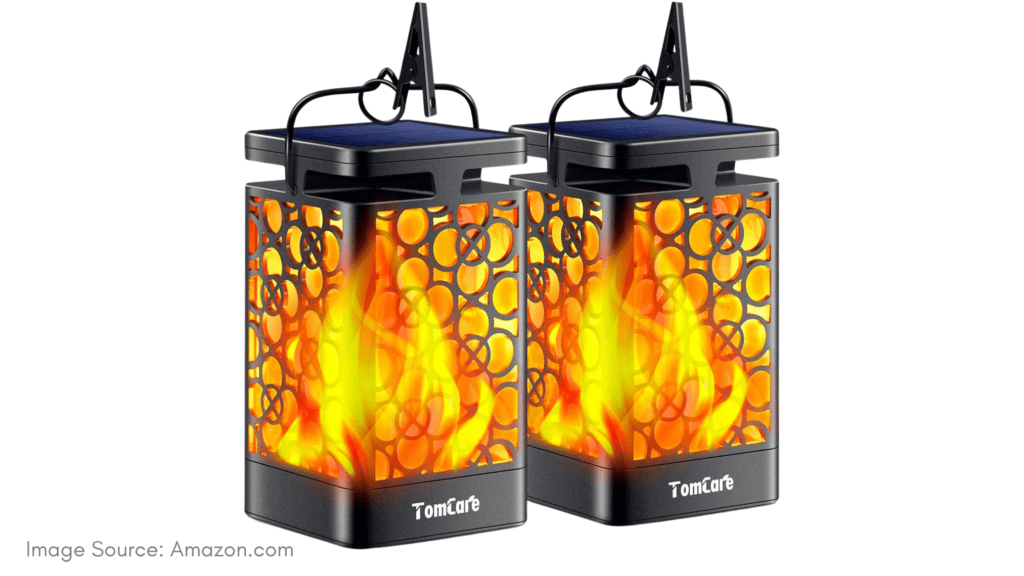 Some of its cool features include:
Flickering Flames Design: No more need to use lanterns with simple light design. Now with this solar lantern, you are going to get a dancing flame design that looks very attractive. It looks like a real flame with warm yellow light.
Upgraded Size: To give out more light and a better visual experience they have upgraded the size of the lantern. It is somewhat bigger than others on this list.
Easy Installation: The process of installation is very simple. It comes with a hanging clamp which will help you to hang it anywhere you like.
After installing you can set it to turn on automatically when dark. This way you won't have to do anything to operate it, thus saving your time.
Waterproof & Guaranteed: It is made out of durable and waterproof plastic so that you won't have to worry about hanging it outside. It can face rain and snow that makes it perfect for outdoor use.
When all this is coming with 45 days money-back guarantee and 12 months warranty, there is nothing to worry about. Just go for it and if you don't like it then you can get your money back.
The good thing is that it will turn on automatically in the dark but its performance will be affected if it is around any other light source.
2. YoungPower Dancing Flame Lantern
Another amazing dancing flame lantern is from YoungPower. This modern style lantern can be charged with or without solar power.
Thus you don't have to worry about bad weather conditions.
Top-featured include:
Realistic Flickering Flames: You know what's better than flame design lanterns? It's a dancing flame lantern. It will look more like a real flame burning inside the lantern.
This solar light will be an amazing decorative piece for pathways, stairs, walls, etc.
Two charging methods: As this is a solar-powered lantern, apart from solar power you can charge it using USB.
It also has a 2200mAh battery, so after charging for about 4 to 5 hours under the sun it can be lit for 12 hours. In the winter season when there is not enough sunlight, you can charge it using a USB cable to make sure you get full light in the night.
Waterproof: It has a waterproof rating of IP65 and it is made out of waterproof ABS plastic. So you can use it outside freely without worry. It is perfect for both outdoor and indoor usage.
Quick installation: Using the durable hanging circular ring you can hang it anywhere you see fit. It also has an auto mode in which it will turn on automatically at dusk and it will turn off automatically at dawn. So you don't have to operate it manually, hence saving your time and money.
Guarantee: it comes with 12 months of Quality assurance so feel free to contact them if you face any problem regarding your solar lantern.
3. Take Me Solar Lantern
If you're looking for a beautiful flameless lantern, then this one might be the best fit for you. This bronze painted lantern can be a great choice for the table, garden, outdoors & even indoors.
Features:
6 Hours Backup: It collects solar power to charge the batteries during the day time and then turn on the light when it is dark. It illuminates for 6 hours after getting charged.
Flameless Candles: There is a flickering flameless candle inside the lantern that illuminates a warm white light.
1 Battery Included: This lantern includes a rechargeable battery that is enough to help the lantern illuminate for about 8 hours after it is fully charged under the sun.
All you need to do is to make sure that you turn on the switch when it is charging and then it will illuminate automatically.
There is an inbuilt solar panel that converts solar energy directly into electricity. The battery stores the power and then uses the power to light the lantern during the night.
If the solar panel gets enough exposure then it will be able to store more power and provide longer lighting hours.
4. LeiDrail Solar Lantern
This solar-powered lantern is best only for decorative purposes. What I like most about it is the peacock-feather light projection.
It can be one of the most beautiful choices for both indoors & outdoors.
Things I like most about this lantern:
Peacock Feather Lighting: If you want to decorate your outdoor space with something modern and classic look then this LeiDrail Solar Lantern will be the best for you. As it has a classic appearance of peacock feathers like project lights.
Solar-Powered: This solar lantern uses durable polysilicon solar panels along with warm white LED lights that consume less power.
After 8 hours of full charge, it can light for about 10-12 hours at night. But bad weather can be a problem for charging.
Metal body: Unlike other lanterns in this list, this lantern is made out of metal. It has a strong build to resist heavy rain and snow and also has the power to resist extreme temperature. This is what makes it perfect for outdoor usage.
Easy installation: There is no wire in this lantern so there will be no problem setting up the lantern anywhere.
Money-back guarantee: If you face any problem or they fail to satisfy you with their service then you can enjoy 30 Days full money refund and 12 months guarantee.
Do not hesitate to contact them for any problem you face. They are there to answer all your questions.
5. Yinuo 2 Pack Solar Lantern
Another decorative lantern is from Yinuo. It is an antique style lantern with a plastic & metal body.
Instead of a peacock pattern (as in #4), here they have used a flower pattern that looks something like the one in the below picture.
Some cool features of this solar-powered lantern are:
Antique design: This outdoor solar lantern with an attractive hollowed out flower pattern is perfect for lighting the outdoors in a beautiful way.
Solar-powered: This lantern is also powered by solar and it will turn on and off automatically according to the environment.
Thus it helps you to save a lot of energy consumption and eliminates hard work. There is a button for switching it on and off in the light cover and you need to turn it on before charging.
Easy setup: With the help of the hanging ring it can be put up anywhere like on a tree or a wall or at the ceiling.
Average lighting hours: When this lantern is fully charged with 6 hours of enough sunshine then it will be able to light for about 6 to 8 hours at night.
6. Kaixoxin Fairy Lights Lantern
If you are looking for an adorable lantern that you can gift your loved ones, then you should surely go for this one.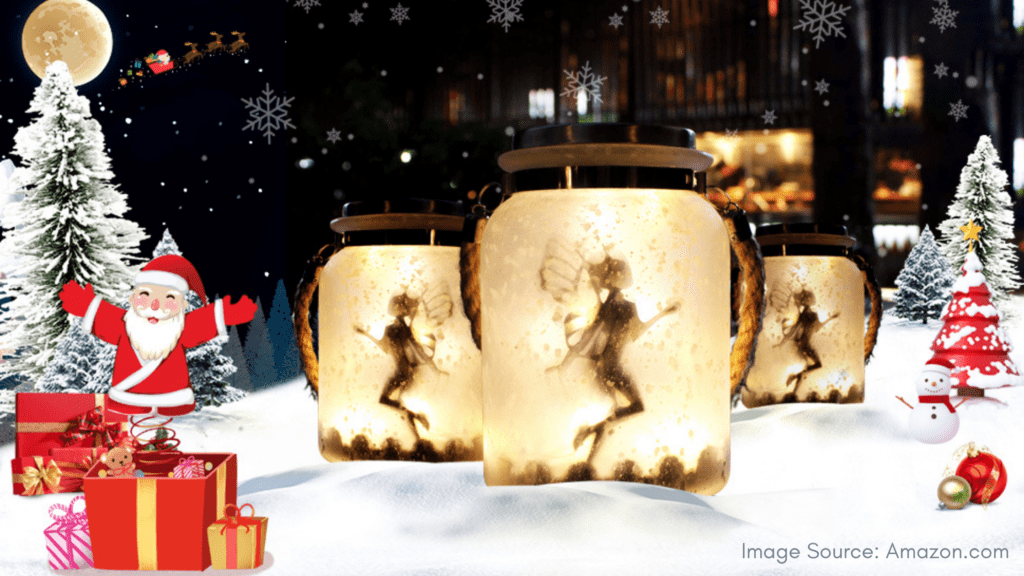 Some good reasons for considering it:
Dual Purpose: This solar powered lantern can be used both indoor and outdoor as it is easy to place on any surface and can be hanged anywhere using the hemp rope handle.
Turning on and off can also be automated so that it turns on automatically at dark and turns off again during the day.
Cute Gift: The amazing light creates a feeling of love and romance that is why it is a perfect gift material for your loved ones.
Warranty: This solar lantern has glass on its sides that is tending to break while transporting. So if you receive a broken material then you will get a fast replacement service for free of charge.
7. Hanging Garden Solar Lantern
The last one on our list is a hexagonal decorative lantern from Homeimpro Store. This solar-powered lantern can be used outdoors, on the pathway, lawn, garden, courtyard, or anywhere else.
It is an antique design lantern that comes with a stainless steel body which ensures that it will perform well in any weather condition.
Features:
Auto turns on/off: This garden solar lantern charges itself during the day in sunlight. And then automatically turn on at night and stay lit for up to 8 hours when it's fully charged.
When you are using it for the first time then keep it in solar light while keeping the switch on and then keep it in a dark place to check whether the lights are turning on or not.
Batteries included: The batteries are also included so you don't have to worry about purchasing batteries separately.
This hexagonal looking solar garden lantern is ideal for decorating outdoors in any season and occasion. You can place it on the tabletop or hang it anywhere.
There is no wire so no hustle in installing the light. Also, automation helps you save time and energy.
Over to you
It's your house so it's on you to decide how you want to decorate it. Just putting up one of these solar powered lanterns will add a star to the beauty of your house.
All the lanterns in this list are solar powered to save your electricity bill and keep your courtyard well lit in the dark.
So buy any one of these without any worry as the company provides full support to you after buying.
I hope you find this post helpful. Make sure to leave a comment if you have queries or suggestions!