Solar powered fountain pumps add a star to the beauty of the garden. Having a water source in the garden gives more natural vibes.
But the level of attraction a fountain can provide can never be matched by a pond or stagnant water.
Moreover, a pond attracts mosquitoes and insects while a continuous flow of water from the fountain never lets mosquitoes around it.
So, if you have decided to install a solar-powered fountain pump in your garden then you have made a great decision.
But instead of going for traditional wire powered fountain pumps you should go for solar-powered pumps.
It is so because in the case of solar-powered pumps, you won't have to worry about the wires and they can even work when there is no electricity in your house.
The best thing about solar-powered pumps is they are cheap and very efficient. They are easy to install and can even be installed without paying the electrician.
These fountain pumps are available in all different shapes, designs, and sizes, which means they can serve multiple purposes as per your need and requirements.
In this post, I have listed 7 best solar powered fountain pumps in the market based on your general need and purpose.
I have mentioned their features, pros, and cons so that you will have enough knowledge before making any buying decision.
List of 7 Best Solar powered Fountain Pumps
All the products that I have listed here are available on Amazon, & you can click the "View Pricing" button at the end of each product to visit the product page.
1. Solariver Solar Water Pump Kit
This fountain pump works at 400 GPH (Gallon per Hour) at a maximum voltage that makes it the most powerful fountain pump.
You have total control over the flow and you can even adjust the flow manually without any problem.
Besides being the most powerful pump, it cannot work at night as it doesn't come with a battery which is its major drawback.
But that can be fixed by getting it a battery.
Pros:
Long life of about 20,000+ hours.
Flow can be adjusted accordingly.
Easy setup and maintenance.
Maximum lift 6.5 feet.
Comes with a full 1 Year Warranty in addition to that 100% money-back guarantee.
Cons:
Battery not included in the package
Cannot work at night.
---
2. ECO-WORTHY Solar Fountain Water Pump
ECO-WORTHY Solar Fountain Water Pump is one of the great products by ECO-WORTHY. Being average at everything we can say that jack of all trades but master of none.
It has an average flow rate of 160GPH and lifts a height of about 5.6 FT ( 1.7 m).
But what I like the most about it is its solid build. It is designed with durability in mind using an aluminum frame and 4 protection angles.
Solar panels can be adjusted easily and the panel can be placed in the ground.
With all this, it is good at everything but not best at any particular feature.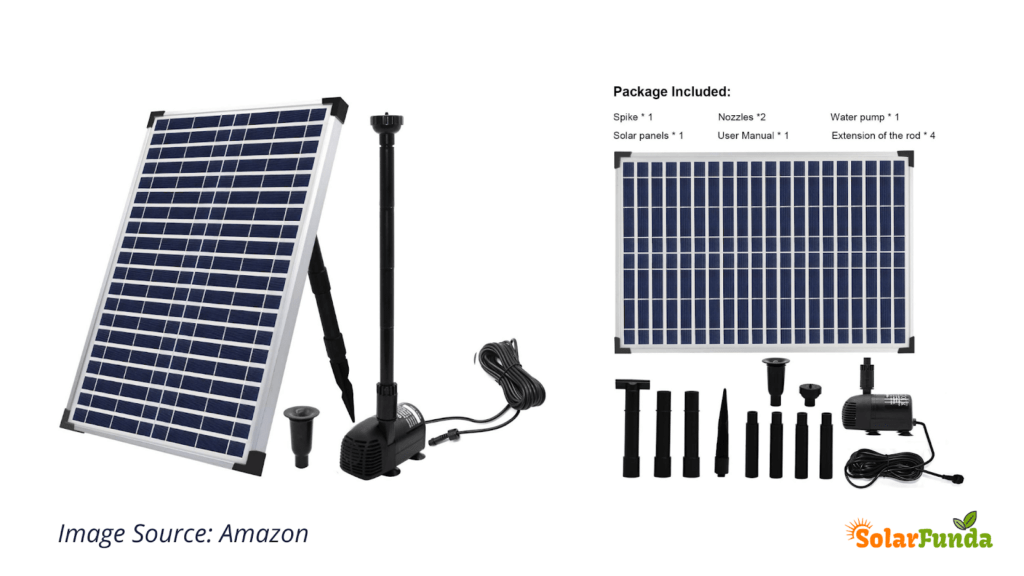 Pros:
Durable design, made with aluminum frame.
Can be cleaned easily.
Comes with 2 nozzles in the package.
Fast sunlight detection.
Cons:
Average at everything.
Battery needed to be purchased separately only if necessary from the manufacturer.
---
3. Ankway Solar Bird Bath Fountain Pump
As the name suggests this fountain pump is best for bird bath as it comes with suction cups underneath.
It runs automatically on solar power without needing any battery or electricity.
The best thing about Ankway is their after-sales service, you can come to them with whatever problem you are facing and they won't let you down.
It is small in size and can be easily relocated without any problem as no plugin is required.
This pump can be used for multiple functions as it comes with 8 kinds of spraying styles. These styles are preferable for birdbath, a small garden that can also be used in a fish tank.
Pros:
8 different styles of spraying water out of the fountain.
Suction cups to avoid spread and fountain movement.
Easily cleaned and relocated.
Cons:
Need sunlight to work and stop working as shade rolls in.
There is no battery to power the fountain when it is shaded.
---
4. Roadtec Solar Fountain Pump Kit
This amazing fountain pump by Roadtec gives a water height of a maximum of 70cm (27.6inch).
The length of the cord is quite short of about 9.5Ft and can be extended using an extension cord.
The in-built brushless motors contribute to the long service life by consuming less energy.
But it needs sufficient sunlight to work properly and if shades roll in they will stop working. But as soon as they get enough sunlight, they will restart within 3 seconds.
The best thing is that this fountain comes with 4 different styles of sprinkler heads that give different flow and height to the fountain.
Because of this, you can use it wherever you want like in a fish tank, small pond, birdbath, or anywhere you want to be decorated.
Pros:
Versatile sprinkle style.
Low consumption of energy.
Cons:
Need full sunlight to work.
Cannot work in the cloudy sky.
---
5. WEANAS 2.5w Solar Fountain Pump
This is a super affordable solar fountain pump that comes with a battery of 800 mAh.
With the help of this battery, you can run the fountain even on cloudy days or at night. This battery will keep the fountain running without sunlight or any other power source.
This fountain is very easy to use and can be assembled easily. But it is hard to do the placement because both the solar panel and the battery needed to be placed away from the water.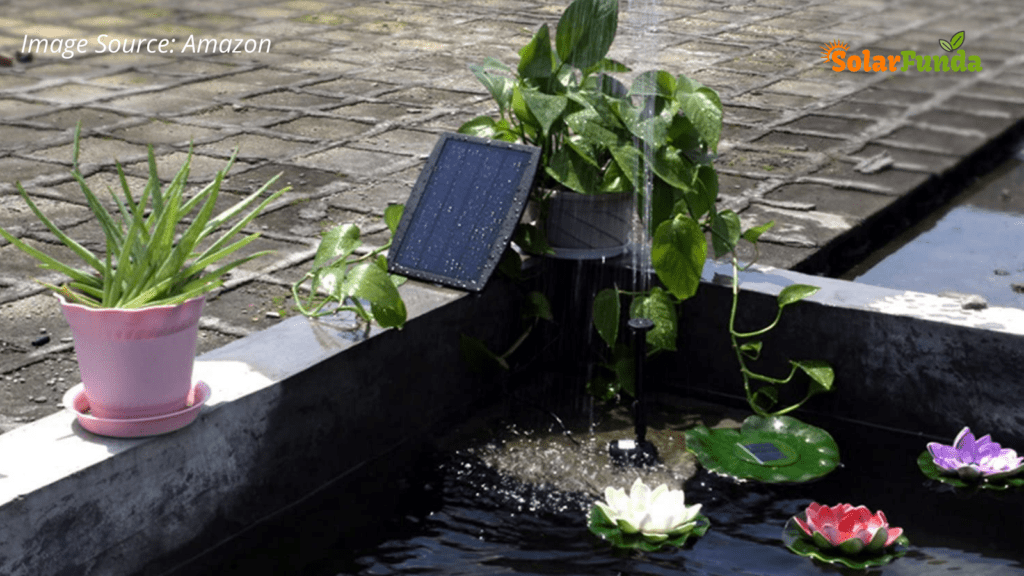 Reasons to buy this water pump:
Comes with 3 nozzles to give a different style
800mAh battery to run all night
Best choice for a small pond, fish tank, and stream
Very easy to use and install
---
6. ASC 1.3watt Solar Water Pump Kit
This is one of the great products from ASC Company. With their little 1.3W solar fountain pump you can transform a dull-looking fish tank or a birdbath into a cool looking fountain.
And this is the one that is going to get you a lot of appraisal from your friends and visitors.
What's attractive about this is it comes with a small rechargeable battery.
The battery can power the pump for a total of 3 hours when fully charged up. So this will run for a while after the sunset or shares roll in.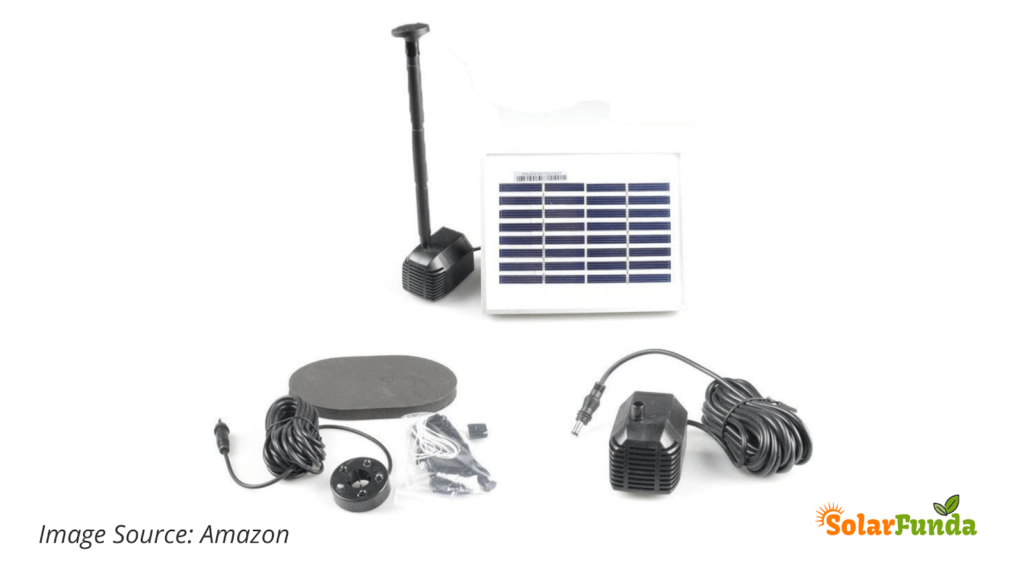 Pros:
Rechargeable battery included.
The lift height of the water from the fountain is up to 20 inches.
180L/h Water Flow capacity.
3 hours preset runtime on battery.
Cons:
3 hours is not enough for the whole night.
Manual switching is needed from solar to battery.
---
7. 120 W Farm & Ranch Solar Water Pump
If you want to produce large water out of the fountain but with minimum cost on your bill then this is the best choice for you.
This fountain pump produces great flow while consuming very little power.
The reason you should buy this is that it is anti-corrosive, which implies that it is going to last longer which makes it a perfect investment.
This fountain pump I preferred for larger applications like aquaculture or large pond instead of a fish tank or birdbath.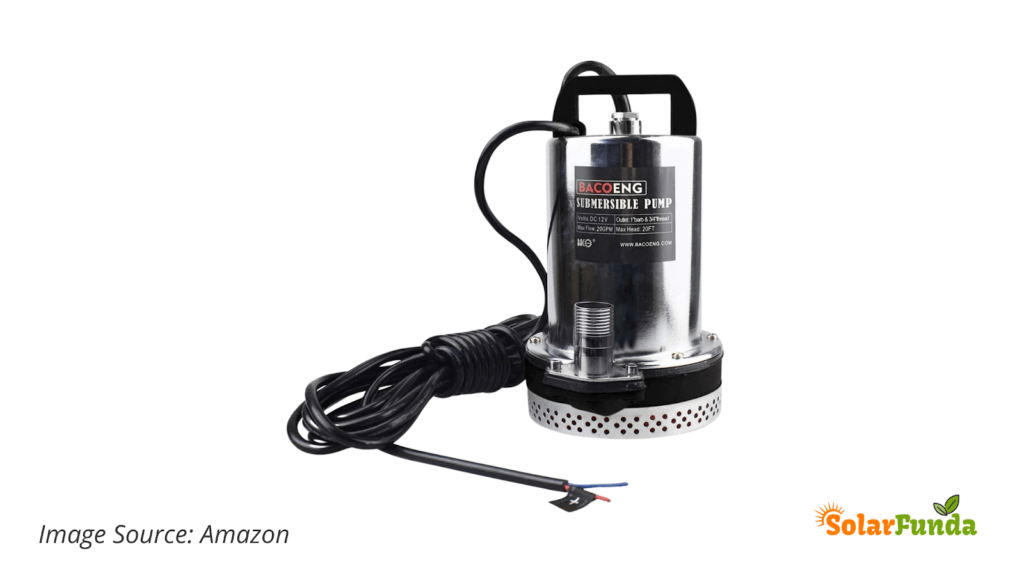 Pros:
Consume less power
Gives large water flow
It has anti-corrosion property
Longer service life
Cons:
Doesn't have a battery
Need full sunlight to work properly.
---
FAQs
Do solar fountains work at night?
Solar Fountains only work as long as it gets sunlight. However, you can use a battery to
store power
for use at night.
Which solar pump is better AC or DC?
With AC, you have to use a
solar inverter
while if you don't want to use an inverter, then you can go for DC pumps.
How many solar panels does it take to run a water pump?
It depends on the watts your pump is consuming. In our previous post, we have covered it in a lot more details that you can
find here
.
How long Solar-powered fountains last?
Usually, these fountains last between 2-4 years. Rest depends on which one you have purchased & how you are taking care of it.
---
Conclusion
By the end of this article, I hope you will have enough information about the products that will be going to help you with your buying decisions.
This list comprises products of all types and is of top quality so whatever you choose to buy will surely be a good decision.
But as a general rule of buying, buying with the motive of saving money can be a misleading decision.
So don't make decisions based on the price of the product, but according to the need and their features.
Know the cons and know that there will always be cons of every product; none of them are made perfect.